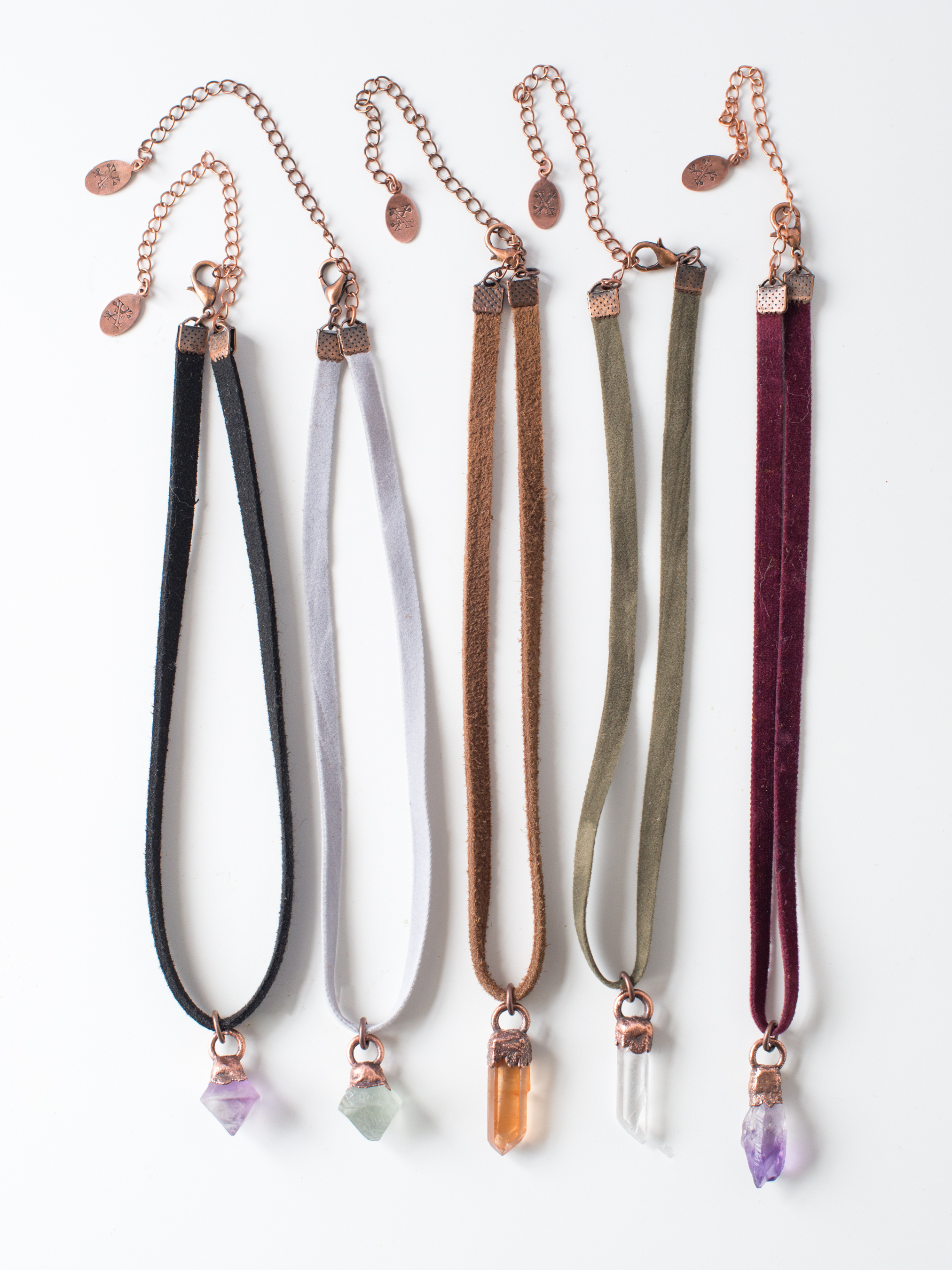 Crystal Choker
This listing is for an adjustable choker with an electroformed crystal pendant. The stones available are Amethyst, Clear Quartz, Tangerine Quartz, Green Fluorite, and Purple Fluorite. You may choose your choker color -- burgundy (velvet), sage (velvet), grey (velvet), black (vegan suede), brown ( real leather). Each choker is handcrafted at a standard length that measures 12" at the tightest and extends out to 15" with a 3" copper curb chain ended with our logo tag. If you need a different length just leave a note when you checkout!!
◉ ◉ ◉ ◉ ◉ ◉ ◉ ◉ ◉ ◉ ◉
Fluorite cleanses the heart chakra, easing turbulent emotions and bringing a sense of calm, peace, and renewal. It attempts to balance the mind with the emotions, enabling clear thinking and decision making. Green fluorite supports and encourages mental expansion, creative thinking, and new growth. Purple shades of fluorite are associated with spiritual expansion and the awareness of higher levels of consciousness. Meditating and relaxing with fluorite brings a sense of peace to mind, body, and spirit.

Tangerine quartz has hematite or iron oxide present when it was forming which gives it the orange hue. It works with the sacral chakra to enhance courage and confidence, instilling an ability to leave the past in the past and to focus on the future and new growth. It helps one identify and solve issues of the inner self (such as understanding, acceptance, and growth) without self judgement or criticism. Tangerine quartz is great for people suffering with PTSD and any forms of trauma whether it be physical, mental, emotional, or spiritual because it's gentle energy works to realign and refocus the mind, body, and spirit towards healing, growth, and your true path.

Quartz works at a vibrational level attuned to the needs of the user – absorbing, storing, releasing, and regulating energy as necessary. Quartz crystals can be programmed to reflect the intentions that the person working with them has set, amplifying the potential for those intentions to manifest. Quartz is also a cleansing stone that works to remove impurities and psychic debris from the energy field that may permeate the human body. Increasing concentration, it realigns and refocuses the mind, body, and spirit towards clear goals.

Amethyst is known to work with the higher chakras involving communication, thought, and spirituality. It calms the nervous system and the brain creating a peaceful environment for times of thought and meditation. It also helps open and access the third eye and crown chakras, enhancing spiritual awareness and metaphysical abilities, also good for dream recall. It harmonizes the physical, mental, and spiritual bodies which cleanses the aura. Amethyst is used as a purifying crystal (like a natural tranquilizer) to eliminate negative energies and protect from geopathic stress. It has a sobering effect on overindulgence and helps overcome addictions.
◉ ◉ ◉ ◉ ◉ ◉ ◉ ◉ ◉ ◉ ◉
n the off chance we have your piece in stock, it will ship in 3-5 business days. If it is not in stock, your order will be made and shipped in 1-2 weeks. If you need something sooner, feel free to get in touch and ask if we have what you are looking for in stock before purchasing.
If you want to choose the exact piece you are getting, leave a note at checkout and ask for photo options. We would love to work with you to find the piece that calls you. If you are worried you won't love it or that it won't fit, no worries! We accept returns and exchanges!
Each order comes ready for giving (whether for yourself or a loved one) in a gift box with information about your stones, how to charge and cleanse them, and how to care for the copper. More importantly, all orders come with a set of complementary crystals specially selected for YOU!